Enterprise Risk Management
A Manipal-RIMS CRMP (Certified Risk Management Professional) Prep Course





Instructor-led and self-paced options available
"Risk Manager Is Suddenly a Hot Job" – Bloomberg, April 2020
Leading business publication Bloomberg says, "Risk managers are in demand as Covid-19 illustrates the need for executives to
prepare for catastrophes." Enterprise Risk Management (ERM) helps in managing strategic risks and anticipating external risks,
both of which are difficult to mitigate. They require a focus on addressing and building competencies to manage multi-
stakeholder risks than just financial risks.
While companies are rapidly scaling up their Risk Management teams, there is a huge shortage in certified Enterprise Risk
Management professionals to meet the demands. In an ever-changing risk landscape – from cyber threats, to natural disasters
and global health pandemics – risk management skills have never been more coveted.
Enterprise Risk Management Program Overview










Instructor-led / Online self-paced
Graduates and final year students
Why is this the best Risk Management course?
Affiliated with the only ANSI-certified risk management program
Global curriculum - Curriculum designed by global experts from RIMS
Experienced faculty - Delivered by experienced practising RIMS-CRMP certified professionals
Practice-based learning - Learn using case studies designed for India
Flexible learning options - Online Self-paced or instructor led
Build a strong network by engaging with Risk Management professionals from across the globe






Who should attend the course
Practising Risk professionals looking to upskill and certify themselves
Chartered accountants, company secretaries, auditors, actuaries, compliance officers, IT and information security professionals, consultants

Insurance brokers who are responsible for providing consultations
related to life & annuity, property & casualty etc.
Business analysts who are responsible for development of risk management or GRC software and applications
Risk engineers and surveyors who are responsible for site inspection, site risk assessment, property inspection, property risk assessment
Analysts professionals, NAT CAT analysts, modelers
Departmental risk officers, risk champions, risk SPOCs who have been appointed to carry our risk management activities within their departments
Management students who want to make a career in risk management, information security, data governance, fraud management, business continuity, consultant firms, financial risk management, risk analytics etc








The course will prepare learners for the following:
Gateway to one of the most valuable enterprise management certifications - RIMS CRMP
Develop understanding of the most widely recognized Risk Management framework with application across industries
Gain the know-how to establish a framework for managing risk in your company
Construct a risk-aware business model
Design a risk strategy for your business
Develop an organization-wide risk competency
Use the framework in decision-making processes to mitigate risks







This course is designed and developed by globally acclaimed risk managers from RIMS
Developing organizational risk strategies
Implementing
the risk
process
Developing organizational risk competency
Supporting
decision making
Analyzing the business model




- Obtaining internal and external information
- Analyze operations
- Benchmarking
- Develop risk strategy
- Success measures
- Governance and implementation plan
- Identify and evaluate risks
- Create risk solutions and monitor
- Delivery risk training
- Integrate risk management
- Facilitate risk discussions and
risk-based decision making


(includes additional case studies and physical learning material) Executive Vice President, SBI Life

Experience: 32 years
Vice President- SBI Life
Experience: 12 years
MDP- Business Excellence Indian Institute of Management Indore (IIM Indore)
PGDM- Insurance & Risk Management
National Insurance Academy | Pune
CRISC from ISACA, USA, CYB (Cyber Risk Management) from The Institutes' USA, CRMP from RIMS USA,Fellow from III, Mumbai, ARM™ by The Institutes, ALMI, ACS, ARA from LOMA, USA, ISO 22301 LA, ISO 31000 & 27001 Implementation & Internal Auditor, RBNQA Examiner
PhD Scholar from Mumbai University, Master in Science (M.Sc.) , RIMS Fellow (RF), Certified Risk Management Professional (CRMP) by RIMS, USA, Fellow of Life Office Management Institute (FLMI) by LOMA, USA, Associate in Customer Service (ACS) by LOMA, USA, Associate in Risk Management (ARM™) by The Institutes', ORM Cert by PRMIA, ISO 22301 BCMS Lead Auditor, ISO 31000 ERM & 27001 ISMS Internal Auditor
Certification of Completion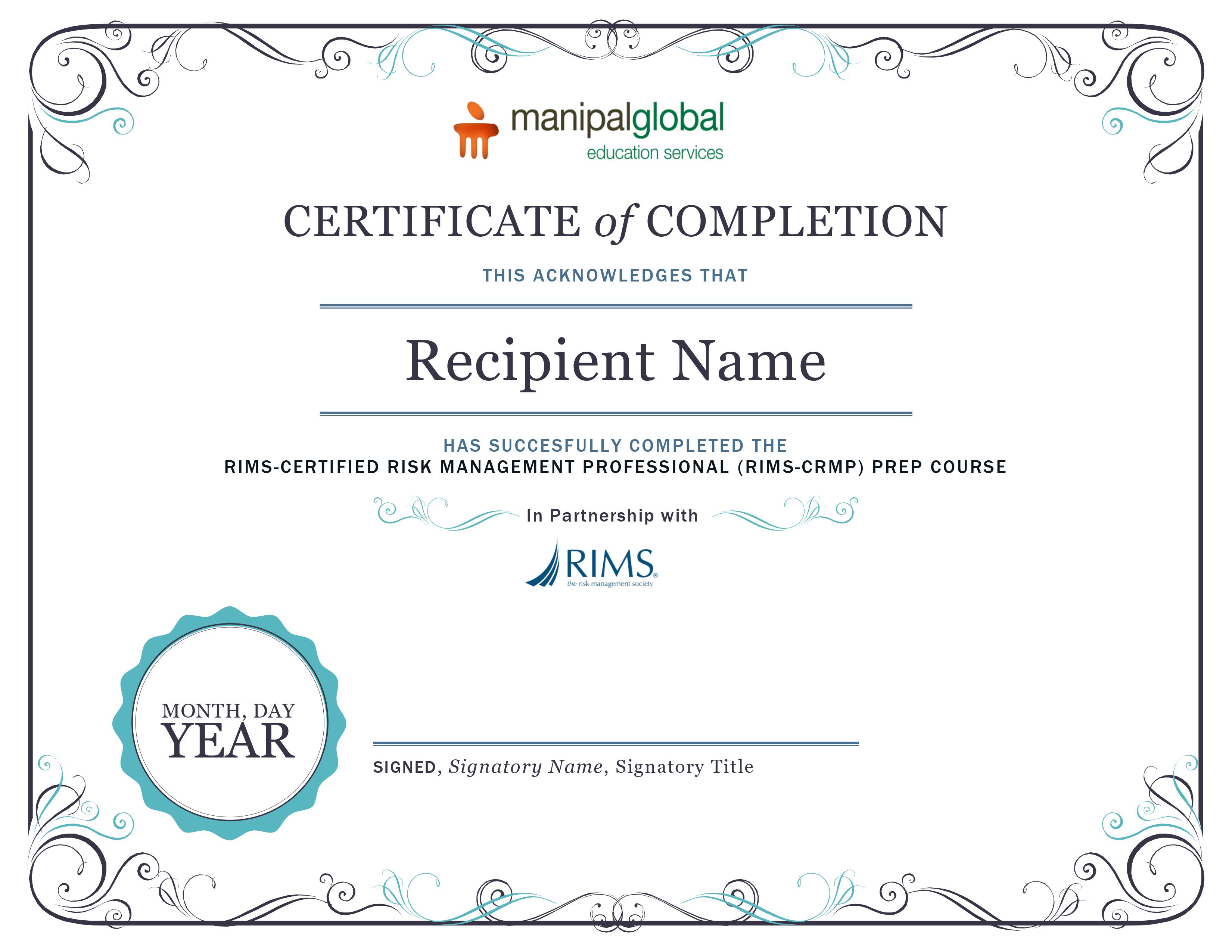 As the preeminent organization dedicated to promoting the profession of risk management, RIMS, the risk management society®, is a global not-for-profit organization representing more than 3,500 industrial, service, nonprofit, charitable and government entities throughout the world. Founded in 1950, RIMS is committed to advancing risk management capabilities for organizational success, bringing networking, professional development and education opportunities to its membership of more than 10,000 risk management professionals who are located in more than 60 countries.

Manipal Global Education Services (MaGE) is a leading education services organisation providing customised and flexible learning and assessment solutions powered by technology, innovation and passion. Pioneers in world-class education, the Manipal group runs three universities in India, five international campuses, 80+ countries represented by our students, and 400,000+ active students situated across the globe.
With over six decades of extensive experience, MaGE is respected globally for business excellence across the BFSI, IT & ITeS, Consumer Goods, Government and Educational sectors. Our tailored offerings comprising customised learning solutions, digital testing and assessment solutions, innovation & design strategy programs, skill development and training, faculty support – combined with our vision to empower learners and transform lives - enable us to accelerate our clients' businesses while they focus on their core competencies. Manipal Global Education Services is a subsidiary of the Manipal Education and Medical Group (MEMG).
For more information, visit https://manipalglobal.com/mage.html.


Manipal Global Education Services - Outreach Partner
Netrika was founded in 2013 with a vision to help clients focus on their core competencies in a risk-free environment. The company is spearheaded by Mr. Sanjay Kaushik and backed by management with over 3 decades of diverse experience. Netrika is headquartered in Delhi-NCR and its regional offices are spread across Mumbai, Bangalore, Kolkata, Hyderabad and Chennai. The company has a growing international presence, currently in UAE, Sri Lanka and Singapore. Netrika is a global leader in risk mitigation and integrity management services, operating in emerging and frontier markets. Through its comprehensive offerings, the ISO 9001:2015 and 27001:2013 certified company provides specialised training regimes partnered with many international bodies such as ACFE, ASRIS, FIS, TAPA, RIMS and many more …
Since last seven years, Netrika is at the helm to train countless individuals from many organizations and businesses representing multiple management areas including Logistics, Security, Finance, eCommerce, Retail, Manufacturing and Supply Chain amongst others. Netrika training program covers various Specialised Security & risk related certifications & courses including Corporate Security, Counterterrorism, Crime prevention, Enterprise risk management, Fraud Examination, Interview Techniques, ABC & AML, Crisis management, Prevention of sexual harassment (PoSH) besides self-defence for women, business continuity to create systems of protection and recovery from the potential hazards or risks involved to business communication skills.
Frequently Asked Questions
ABOUT THE COURSE
Why Enterprise Risk Management
Enterprise Risk Management has emerged as a very important function in organizations. The COVID pandemic has forced companies to build skills and teams that can define, manage and monitor its enterprise-wide risks. Enterprise Risk Management has emerged as one of the skills in high demand in the last few months
What are the salient features of Enterprise Risk Management Certification Program?
This program prepares you for the Certified Risk Management Professional certification, which is the only ANSI certified Risk Management certification in the world. CRMP certified professionals are in high demand in the industry.
What certification will I get on course completion?
Upon successful completion of the course, you will earn a joint certificate issued by Manipal Global and RIMS
What modes of learning are available?
Our training program includes self-paced online as well as instructor-led webinar modes.
What is the duration of the course?
The course is 5 weeks long.
The instructor-led sessions are delivered by CRMP certified trainers who are practicing professionals holding leadership position in large organizations
Will I get a job after completing the Manipal – RIMS Enterprise Risk Management course?
Any professional with relevant Risk Managing certificate will be in high demand in the industry. The certificate allows learners to showcase their knowledge of Enterprise Risk Management which can potentially open opportunities in this domain.
Would the online video content be available to me after completion of the course?
The learning material i.e. lectures and reading content would be available to you for 6 months after the course ends.
FEES & SUPPORT
Who can I contact if I have any other queries?
If you want to know more about our course or curriculum, you can email us at upskill@manipalprolearn.com.
Do you have a refund policy if I am not satisfied with the course and want to withdraw? Is there a timeframe for the same?
All refund requests received by Manipal ProLearn are processed through the same gateway within 14 working days of receiving the request. For any exceptional cases where you have not received the refund amount, please write to us at upskill@manipalprolearn.com. We shall get back to you with an update on your refund request or valid reasons in case of rejections.
I have made the payment but my course access has not been activated yet?
Your course access is activated on receipt of payment from Manipal ProLearn. Course activation usually does not happen when status of payment is not reflected in the system or shows as failed. Sometimes, the welcome mail may get delivered to the Spam/Junk folder of your mailbox. Please check your Spam/Junk folders to ensure you receive this communication. If you still face issues in getting the access to our online course material, please write to us at upskill@manipalprolearn.com.
If I choose to withdraw my application for admission, will I be eligible for a fee refund?
You may choose to withdraw your enrolment from a Web Instructor Led training course and intimate us by e-mail to upskill@manipalprolearn.com, seven (7) or more days before the first scheduled training session of your program, and/or you have not consumed 20% of the online course material. We will refund the program fees paid after retaining the balance 10% of the program fees towards administration and processing charges. For your enrolment to online self-paced learning course, you will be not be eligible for refund once you access the course content. No program fee refunds will be made, to you if you do not meet the conditions outlined above it may be noted that we treat violations of our Terms very seriously, even if the requests are made within the designated refund policy period. In rare situations involving unforeseen and extenuating circumstances (i.e, medical emergency) you may request to defer your participation in the classroom sessions, to the next Batch offering of the same course / Service ("Deferral"). Deferral may be granted at sole discretion of Manipal Global Education.
Is there an availability of financial support, like loans?
Yes, we have tie-ups with established financial institutions in case students wish to opt for an education loan to finance the program fees. However the loan disbursal and offers are from our loan partners and are dependent on your credit rating and details. Please contact us for details.
Would I have to spend extra on books, online learning material or license fees?
All the requisite learning materials will be provided online through the Learning Management System. You are free to purchase any reference books or material as may be recommended by the faculty.
Can my company sponsor me?
We accept corporate sponsorship's and can assist you with the process. Please contact us for details.
Your most important step towards becoming a member of the prestigious risk
management professional network
A Manipal-RIMS CRMP (Certified Risk Management Professional) Prep Course
T&C Manipal Prolearn 2020

For More Information, Call us on 9513247787